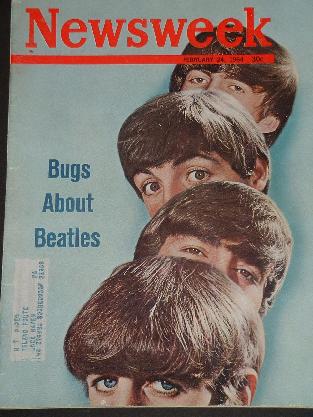 Newsweek February 24, 1964

This is the extremely issue of Newsweek magazine from 1964.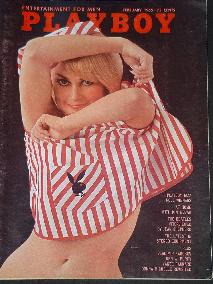 Playboy February 1965
This vintage issue of Playboy magazine contains The Beatles interviewed by Jean Shepherd.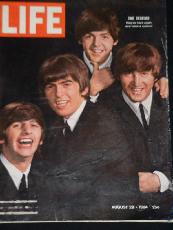 LIFE August 28, 1964

This is a vintage LIFE magazines 1964 issue, Volume 57 number 9, about the Beatles arrival in the USA. lt also contains an interesting article on Brian Epstein. It has alot Beatles photos and fan information.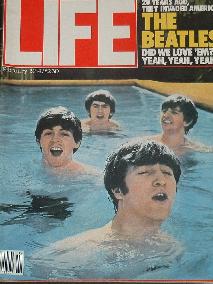 LIFE February 1964

This is the vintage original special Beatles issue of LIFE magazine. It contains ten pages of Beatle articles, Beatles photographs, and Beatle collectibles.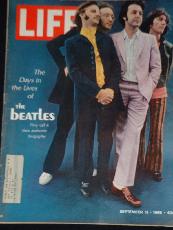 LIFE September 13, 1968

This is the Life Magazine volume 65 number 11. It contains "OVER TWENTY PAGES OF THE BEATLE'S", unseen Beatle photos, and many Beatle fun facts.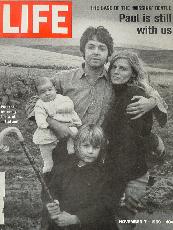 Life November 7, 1969

This issue covers the clues in the Magical McCartney Mystery. Is Paul Dead? See the clues on Sgt Peppers and Abbey Road record albums. Read all the words contributing to this wild legend that struck Beatles fans all over the world. This is a FABulous vintage issue of Life magazine and a legendary piece of Beatles history.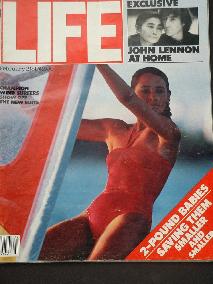 Life Magazine February 1981

Exclusive!! A special Life Photographic look at John Lennon, at home, just before the end...Contains eight full page rare photographs by world reknowned artist and photographer Kishin Shinoyama. These photographs are in color and absolutely georgeous.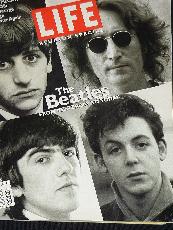 LIFE REUNION SPECIAL December 1995

This is Life Magazines limited edition Beatles Reunion Special. It is entirely devoted to The Beatles with over 90 pages of rare photos and stories. It also has an Exclusive section of Linda McCartneys special photos of the Beatles together again.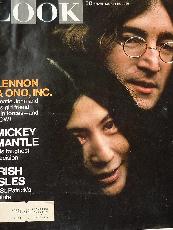 LOOK March 18, 1969

This is the original Look Magazine issue with a seven page spread on John Lennon and Yoko Ono. It has many color photos represenative of the start of "Bagism".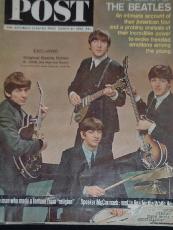 POST March 21, 1964

This is the Saturday Evening Post "special Beatles exclusive."It contains 10 pages of rare Beatle photos and stories. Also included in this issue are two pages of John Lennon's poetry called "Beatalic Graphospasms".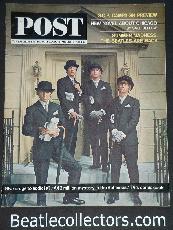 Saturday Evening Post August 8, 1964

This is the original Saturday Evening Post from August 8, 1964. It contains 8 pages of Beatles photos and information called "Summer Madness, The Beatles Are Back".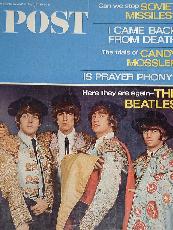 POST August 27, 1966

This is the vintage original Saturday Evening Post issued on August 27, 1966. It contains eight pages of rare Beatles photos and interesting fab four facts.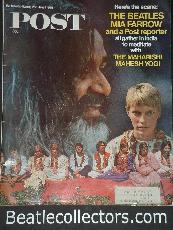 POST May 4, 1968

This is the original Saturday Evening Post from May 4, 1968. The Viet Nam protests were at a peak in D.C., the Black Panthers speak out, LSD was the drug of choice, and The Beatles traveled to the holy city of Rishikesh, on the Ganges River in India, to meet with The Maharishi Mahesh Yogi.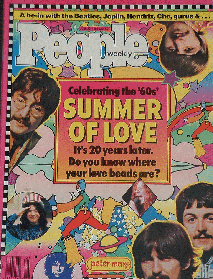 People Magazine June 22, 1987

Peter Max Cover. Do you know where your Love Beads are? This is a very cool issue featuring The Beatles, Janis Joplin, Grateful Dead, Jimi Hendrix, Ken Kesey, Haight Ashbury, LSD, Timothy Leary.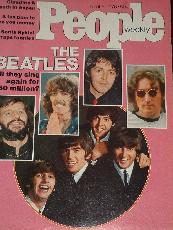 People Weekly April 5th, 1976

This is the People Weekly Magazine issued April 5th, 1976 featuring the Beatles and Bill Sargents unique 50 million dollar offer.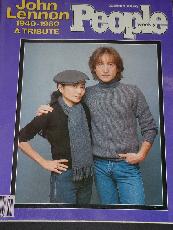 People Weekly December 22nd, 1980

A tribute to John Lennon 1940-1980. A very sad and historic magazine covering John's life and death.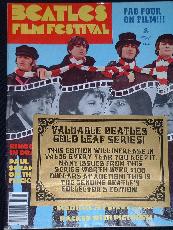 BEATLES FILM FESTIVAL Summer 1978

This is from the valuable Beatles Gold Leaf Series issued by Stories, Layouts, and Press Inc., of New York. It is volume 1 number 2. It has over 60 pages of rare photographs, stories, and "FAB FOUR" features.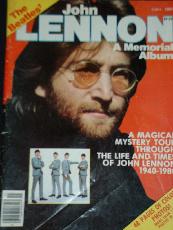 JOHN LENNON
- A MEMORIAL ALBUM
On Nov 8, 1980 at 11:15 PM, John Lennon was pronounced dead at Roosevelt Hospital in New York. This is A MEMORIAL ALBUM devoted to John, his life and times. It was released in January 1981 by Friday Publishing Corp., New York. This is Volume 1 Number 1. It has 12 chapters covering John's life.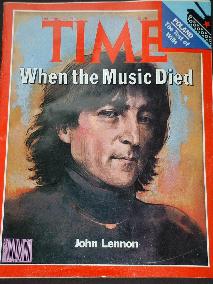 Time Magazine December 22, 1980

This is Time Magazine "When The Music Died," released after John Lennons tragic death. It has pictures of John signing an autograph for Mark David Chapman shortly before his death, and the full story of what happened afterwards.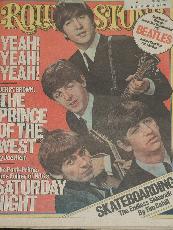 Rolling Stone July 15, 1976

This is a fab issue of Rolling Stone. It is rare issue number 217. Not too many of these have survived. It contains a story by George Martin and ya know that can't be bad.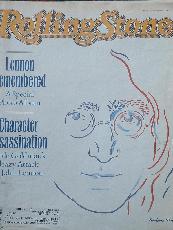 Rolling Stone October 20, 1988

This is a special edition of Rolling Stone Magazine entitled "Lennon Remembered" A Special Photo Album. Full of pics and stories of the Beatles and John Lennon. Condition is VG++. Also includes a character assassination of Lennon by author Albert Goldman.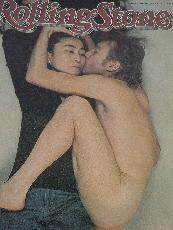 Rolling Stone January 22, 1981

This is a great issue of Rolling Stone. It is rare issue number 335 devoted entirely to John Lennon. The cover was shot by Annie Leibovitz a few hours before John died. It also contains the last photographs of John Lennon ever taken. These photos, by Annie, were taken on the 7th floor of the Dakota where John and Yoko lived. These last pictures are full page! Not too many of this rare issue to be found. It also contains stories and articles by Scott Spencer, Chet Flippo, David Geffen, and John's final interview with Jonathon Cott.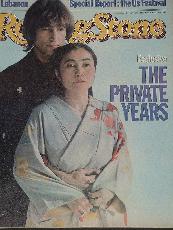 Rolling Stone Issue 380 Oct 14, 1982

The private years of John Lennon. Released 2 years after his death this magazine covers John's time in the White Room at the Dakota. It is an intimate look at Lennon's last years prescribed by Yoko Ono. Also stories on The US festival, Michael Jackson, Bruce Springstten, and The Who.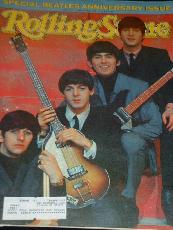 Rolling Stone Feb 16, 1984

This is Rolling Stone Issue #415. It is the Special Beatles 20th Anniversary Issue. It has 100 pages devoted to Beatle stories, photographs, and rare Beatles fun facts.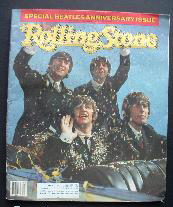 Rolling Stone February 16, 1984

This is a Special Beatles Anniversary Issue by Rolling Stone Magazine. The entire issue with over 100 pages is devoted to the Beatles. It has many stories, rare photos, and interesting info surrounding Beatle people.